Beautiful boudoir sessions have been taking the wedding world by storm and we are all for it, ya'll! The more brides-to-be learn about what's involved in a boudoir session and the intimate purpose of them, the more they're hooked and wanting to learn more. To answer all of your burning questions and concerns about making the best of your upcoming wedding boudoir shoot, we thought we'd lay out our knowledge via Q&A form, aided by one of the best boudoir photographers in the game, Camryn Wild Photography. Enjoy!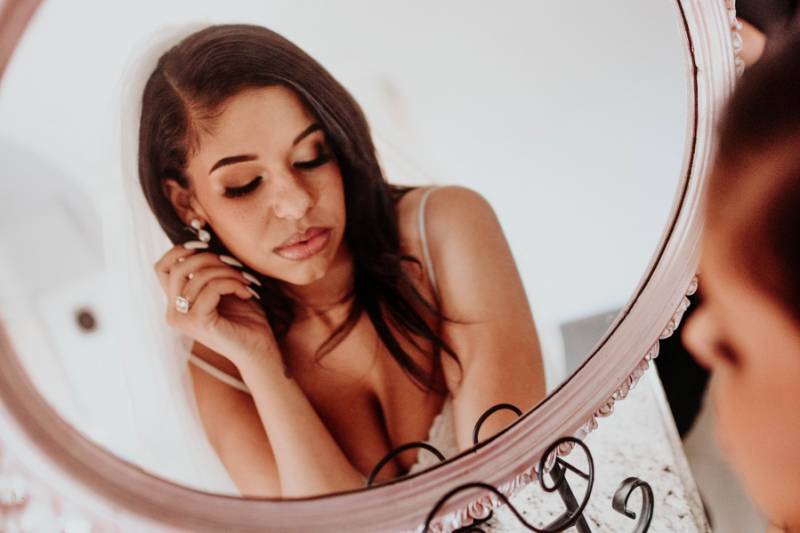 What in the heck should I wear?
It can be tough to know what to shop for. We recommend sticking to your personal style but getting something a little more flashy and detailed than you might instinctually go for. The more bells and whistles to the lingerie, the more exciting the photos. It also adds a perfect amount of edge to your overall look!
Will I look flattering in the photos?
Making their subject look and feel like a million bucks is usually one of the boudoir photographer's top priorities. Not only should they communicate with you about your biggest insecurities and what you like best about your body, they should also reassure you that their efforts with lighting and positioning make a huge difference in the final photos [that you'll absolutely love].
Can my partner join me?
While boudoir sessions are usually meant for one person that eventually share the photos with their partner on their wedding day (as a nice surprise), there's no rule book on how many people can be in one boudoir session!
How can I get comfortable being so intimate?
Being intimate isn't an easy feat, but it's the job of your photographer to reassure your worries and debunk your concerns. Things that you can do? Meditating beforehand, practicing your favorite poses in the mirror, researching the best poses online, or having a glass of your favorite red before the actual shoot never hurts!
Can the photos be shared online?
In the contract with your photographer, make absolute sure that there's language protecting your privacy. The photographer may ask if you're okay with them being shared on their site and social media (which is quite normal), but it's totally up to you to say yes or no.
What if I hate the photos?
If you're unhappy with how the photos turned out, we suggest communicating with your photographer on what to do next. Don't be afraid to be a little more hands-on during the shoot as well. Ask the photographer to share how the photos are turning out along the way so that you can re-adjust posing to your liking.
Can I do a session even though I'm not getting married/in a relationship?
Heck yes, honey! One of our favorite things about boudoir shoots is that it's for women, the way they want it. Working on being so comfortable with yourself is incredible and keeping the photos can just act as a constant reminder as to how beautiful you are, just the way you are.
When should I book my session?
Book your session asap and far in advance! It ensures that your date will be secured and that you'll have the photos returned to you way before the wedding day.
We hope we've debunked your main questions about boudoir, but we'd love to continue the convo! If you're looking to get advice from a photographer, we highly recommend reaching out to the wonderful Camryn Wild Photography. Also reach out to her if you're feeling ready to book that session and start loving yourself in all of your beautiful glory!
Love this post? You may also love Reasons to Book a Boudoir Session
Images via Camryn Wild Photography