A huge part of a bride's special day is feeling comfortable in her own skin. All eyes will be on her, she'll be wearing it all night, it'll be in photos that she has for the rest of her life.. There are so many things to consider when creating the perfect bridal look! With the perfect dress, accessories, and hair/makeup team, creating the perfect look is more than possible. Read on to see some of our favorite bridal looks and styles that have inspired some of our top tips!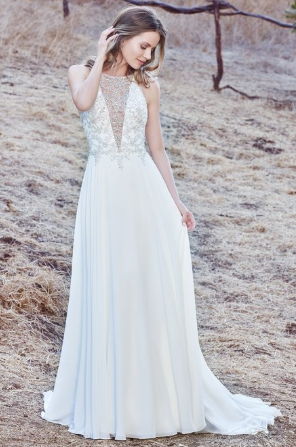 A style that we love to see brides rock is their own, natural beauty. With minimal flash but perfectly placed details, any bride can pull off a natural look in such a jaw-dropping way. With a dress like this one, you have just enough flash that pairs so well with minimal makeup. Our recommendations:
-Soft/Loose, Large Curls
-Neutral Makeup Tones
-Neutral Toned Nails
-Optional: Jewelry & Veil
One of today's top bridal looks is a classic style with a modern, striking twist. With something as classy as the sweetheart neckline, some brides feel as though their hair, makeup, and accessories must be "classic" as well. With a touch of modernized details, a bride can feel like the traditional-yet-chic woman she is. Our recommendations:
-Tight, Middle-Part (Bun or no Bun)
-Large, Loose, Thick Curls
-Teardrop or Chandelier Earrings
-Bold Eye Makeup w. Neutral Lip
-Neutral Toned Nails
-Optional: Veil & Necklace
Each bride is entitled to wear and look however she wants on her big day. By no means are we giving recommendations based on societal rules or norms. They're just suggestions we have learned from some of the best professionals around. One of our favorite classic looks? Subtly undone. Our recommendations:
-A plunged neckline
-Subtle Details
-Low Bun with Beach-Like Waves
-Small Teardrop Earrings
-Optional: Classic Veil
Brides deserve to feel like the queens they are. They deserve to play dress up but still feel like themselves, as that's who their partner loves the most. How are you planning to create the perfect bridal look? Still hung up on how to do so? Comment your tips and questions below!
Images via Moliere Bridal