The options for your wedding day are literally endless. With a countless number of fabulous vendors, gorgeous themes and too many styles to name, how's a couple supposed to make sure they create a cohesive wedding day? We hear you! And we're here to the rescue.
1. The Dress
Of course you should choose a dress you absolutely love + that's why we suggest you consider this one first. If you find a ballgown number you fall in love with but had planned on getting married ocean-side, you may want to reconsider how bulky it might feel in the humid weather or the length of the train gliding in the sand. While nothing is off-limits (own whatever you wear and you'll look like a queen!) there are some practicalities that brides have been glad they considered.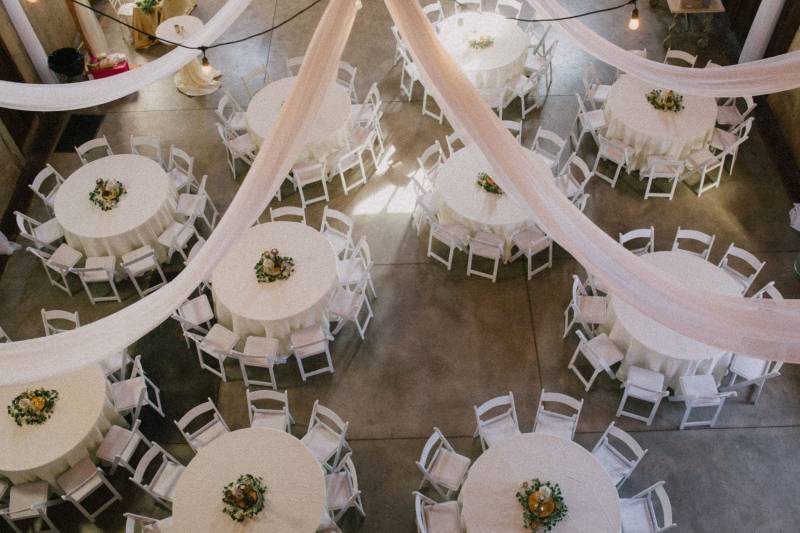 2. Color Palate
Creating a color palate and having it easily accessible when you're choosing things such as table linens or chair covers, will ensure that everything comes together beautifully. Sure topaz might be gorgeous, but will it complement the deep ruby red you want highlighted in your accent pieces?
3. The Venue
The venue is another top item to consider while designing a cohesive wedding. When determining where you'd like your nuptials or reception held, think about if it's the "vibe" you envisioned for your Big Day, and if not, can it adapt with some simple accent additions or uplighting? If the answer is "no" (or you just don't want to deal with that extra worry), consider another venue option that fits your bill to a tee.
4. The Centerpieces
Centerpieces are an easy way to make sure your wedding theme stays cohesive. Are sky-high florals what you want? How about the gorgeous sparkly pinecones like featured below? Is your preference to keep things more simple with tea lights and a table number? The decision is up to you, bride or groom to-be!
5. Bridesmaid Dresses
Are your bridesmaid dresses keeping with your chosen color palate? Are they more trendy even though you'd like to have a more timeless affair? Are they matching or thoughtfully sorted? Tea length or gowns? All of these questions and more will help you decide if your bridesmaid dresses are keeping in line with the theme of your wedding day.
Questions about creating a wedding that stays exactly what you want and on-theme? Pop them in the comments!
Photography: From Britt's Eye View